The 5 Most Common Questions We Receive From Prospective Buyers
When considering listing a property, one's head is spinning with copious amounts of questions and concerns. This can often times feel overwhelming to prospective sellers. It is important to take a step back, clear your head, and tackle each question/concern one at a time. One of the most valuable questions that a prospective seller may have is exactly what it is that prospective buyers are looking for and how their property fills those desires. This is a fundamental practice used by brokers in determining the value of a certain property, what the demand will be, and what list price is suitable to craft the most competitive bidding environment that will result in the highest return on investment for the seller. Here are the five most common questions we receive from prospective Sugarloaf home (and condo/townhouse) buyers.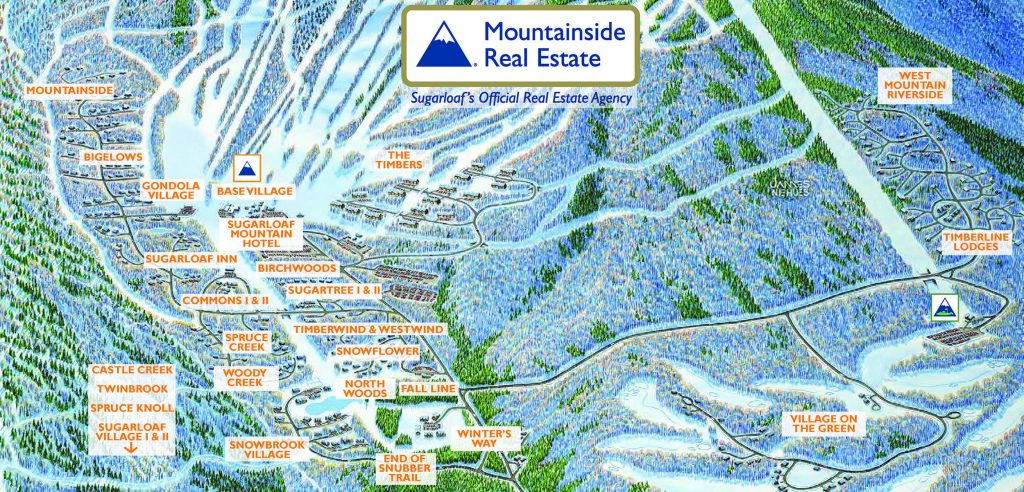 Artist Rendering Depicting the Majority of On-Mountain Developments
        1) LOCATION, LOCATION, LOCATION
By far the most common question Mountainside Real Estate brokers get is about a property's proximity to activities and areas of interest. "The biggest one is proximity to lifts and trails," broker Deb Pierce said. "And proximity to childcare, lessons, and shuttle services," broker Barb Larson added. Buyers want to know that their property will be family-friendly, offering accessibility to both the Sugarloaf Child Care Center and ski school as well as the Sugarloaf Explorer in addition to easy access for plenty of warm-up breaks in-between laps.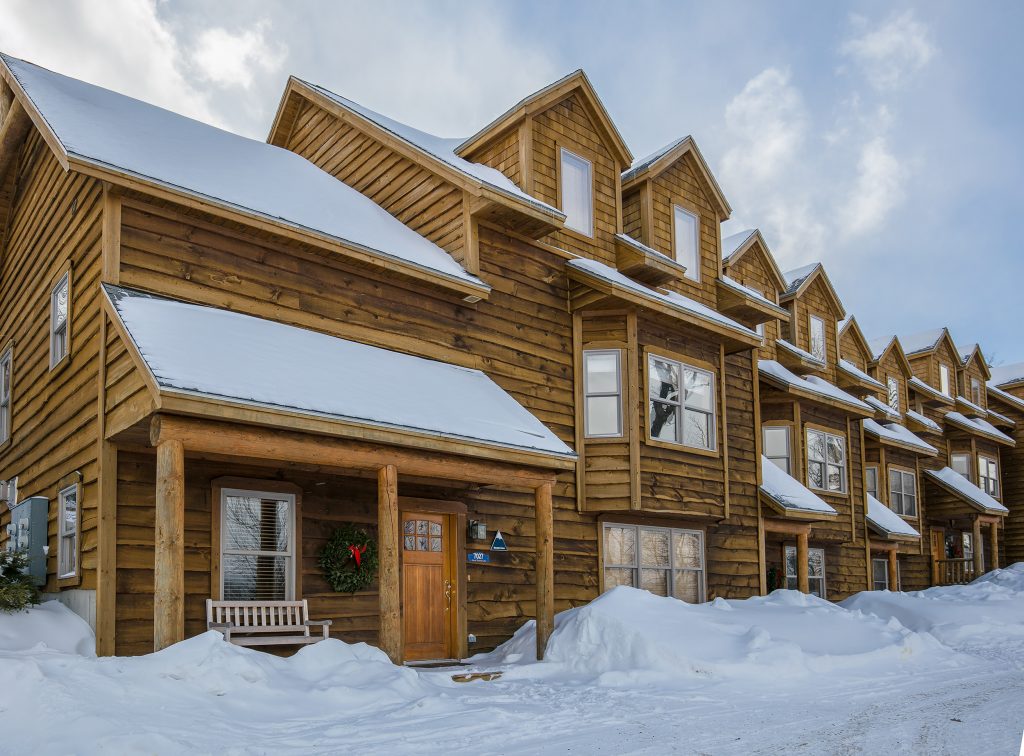 Timbers townhouses, one of the most in-demand locations at Sugarloaf just above the Super Quad
       2) RENTAL INCOME POTENTIAL
One of the great benefits of resort home ownership is rental income potential, and this lands second on the list of most common questions Mountainside Real Estate brokers receive from potential buyers. Buyers are very interested to learn about the rental potential of different properties, and what their income could be with different rental programs. Mountainside Real Estate covers the option for listing Sugarloaf owners' properties for the entire season (usually November through May), while Sugarloaf Lodging offers the option for owners to rent out their properties for certain weekends or vacations, allowing owners the opportunity to still come and enjoy their favorite mountain when desired. If you're interested in learning more about the Seasonal Rental Program through our agency, please feel free to contact us to chat with one of our knowledgeable agents.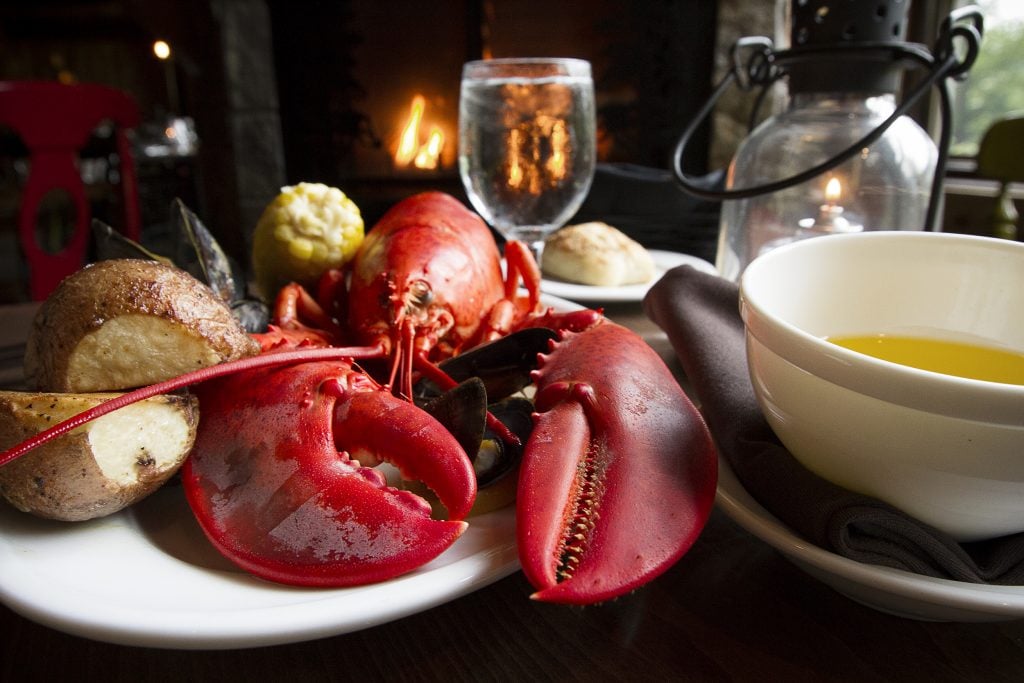 Scrumptious Lobster Dinner at 45 North in the Sugarloaf Mountain Hotel
       3) RESTAURANTS
The dining and nightlife scene has always been a big part of the Sugarloaf experience, so it's no surprise that it's on the mind of potential real estate buyers. Ease of access to Sugarloaf's many restaurants and bars is important to a lot of buyers the Mountainside Real Estate team talks to. For some, that means walking distance to Sugarloaf's Village, while for others it means easy access to a shuttle stop.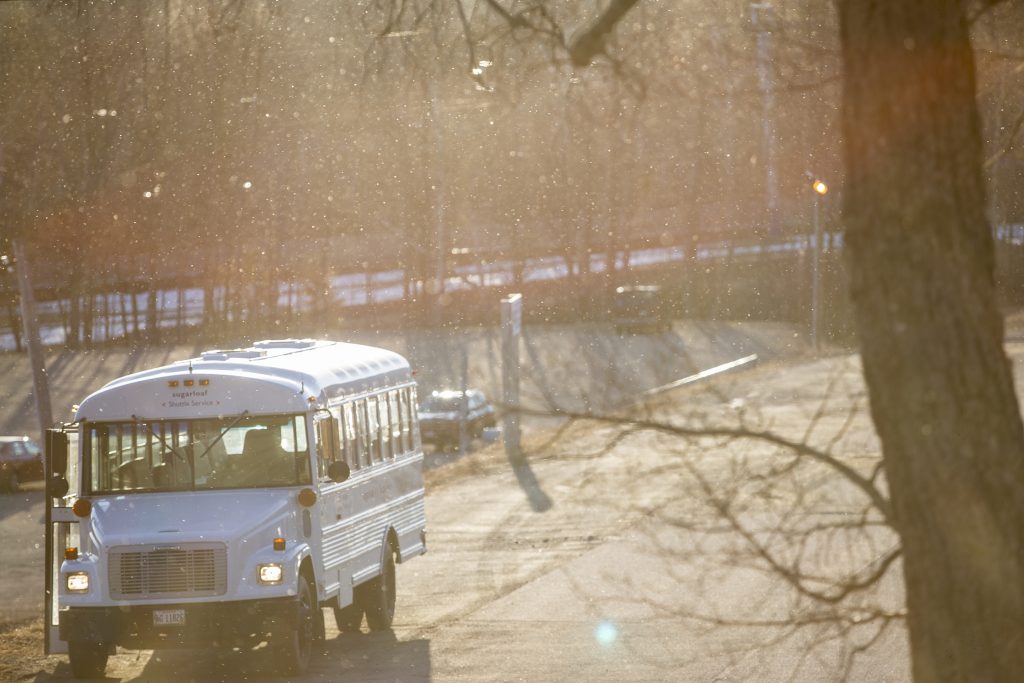 Sugarloaf Shuttle near the Base Lodge (photo by: Tim Cutler)
       4) SHUTTLE AVAILABILITY
Speaking of shuttle stops, the fourth most common question Mountainside brokers hear from buyers is about shuttle accessibility. The Sugarloaf Explorer shuttle system provides safe and convenient transportation throughout Carrabassett Valley, with stops right in the heart of Sugarloaf's Village. The Sugarloaf Explorer has set regular routes with pick-up and drop-off locations. Easy access to one or more of those stops is one of the things buyers look for most in a Carrabassett Valley property. Proximity to a shuttle stop provides a host of benefits for property owners. They can easily access everything the resort has to offer without dealing with traffic and parking. Older children can use the shuttles to get to and from the mountain without parents having to drive them. And they can enjoy the resort in a more efficient and environmentally friendly way. For a complete Winter 21-22 route schedule, click here: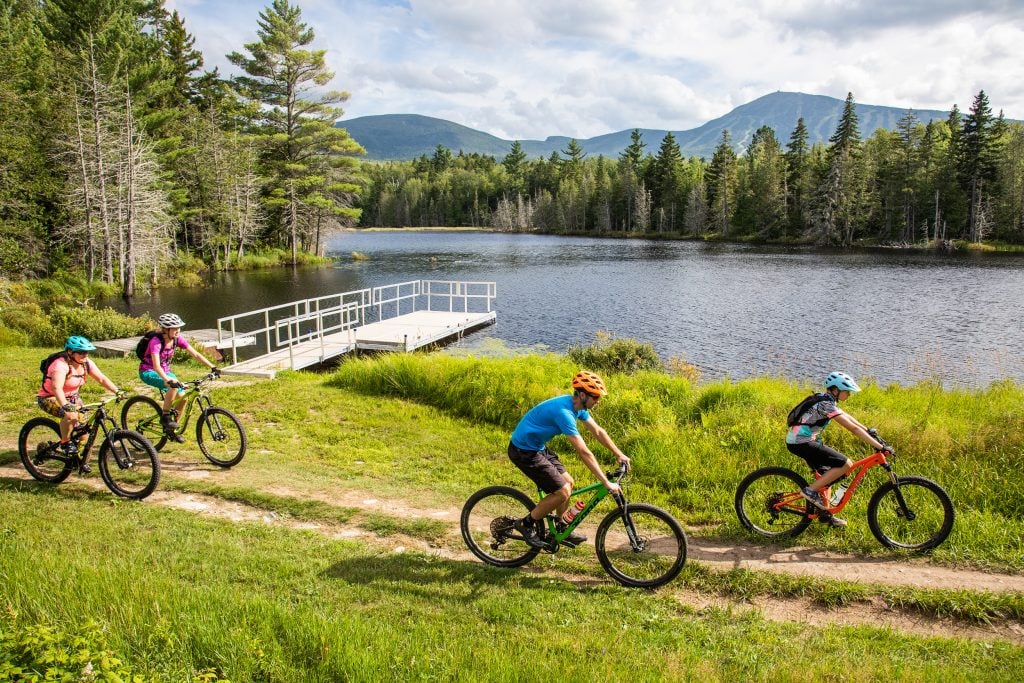 Family Mountain Biking by the pond at the Outdoor Center
       5) SUMMER ACTIVITIES
In the past, most buyers of Sugarloaf homes were specifically interested in one season: winter. In recent years, however, more and more buyers are looking for properties they can utilize year-round. "I definitely get a lot of folks inquiring about access to the mountain bike trails," broker Sam Punderson said. Punderson, an avid mountain biker who is an active member of the local chapter of the New England Mountain Bike Association, CRNEMBA, frequently answers questions from potential buyers about the local trail network and other summer activities that make Carrabassett Valley a vibrant year-round destination. The activities that are important vary widely depending on the buyer. For families with young children, Punderson frequently provides information about the Carrabassett Valley Outdoor Adventure Camp. The camp is open to year-round residents of The Valley and surrounding towns for children ages 6 to 13 and made available by the town's Recreation Department. Some buyers who are avid golfers are looking for easy access to the Sugarloaf Golf Club, while others want a location that provides convenient access to mountain bike trails. While their specific interests may vary, most buyers are looking for properties they can utilize year-round – not just during the winter.
If you're interested in learning more about potentially selling or buying property in the Sugarloaf area, please feel free to contact us to speak with one of our slope-side living experts or to schedule an appointment.