In the early months of 2020, as the world began to navigate the new realities presented by the COVID-19 pandemic, uncertainty abounded in the real estate world. Would people take a conservative approach and wait out the pandemic, or would they continue buying and selling as they had before?
In fairly short order, it became clear that neither of those scenarios would prove to be true. The housing market soared, driven by low interest rates and the new remote-work age, which allowed many workers to relocate their home without changing their job. Nationwide, median home list prices have risen 24% from the start of the pandemic, with the largest increase in more rural regions. The largest increase was in Idaho (46%), followed by Montana (38%), and Maine (36%). Two hotbeds of the housing boom have been Big Sky, Montana, and Portland, Maine, as the exodus of affluent Americans fleeing congested cities unfolded across the country.
Change in Median Home List Price Between February 2020 & June 2021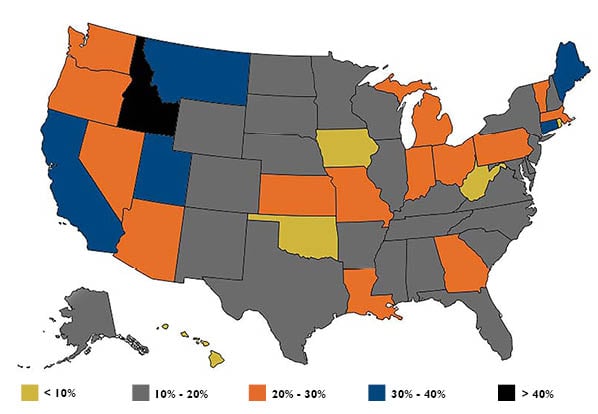 The greater Sugarloaf region has likewise been a hotspot in the recent real estate boom. Leading up to the pandemic, Carrabassett Valley had experienced a steady increase in the median sale price of a residential property dating back to 2016. In 2016, the median sale price of a residential property was $260,820, which grew at a steady rate over the next five years to $331,385.29 in 2020. In 2021 that number has risen to $535,696.61, an increase of 62% from 2020 and over 99% from 5 years ago.

Low inventory combined with a soaring level of demand has led to dramatically shorter stints on the market for most listings. The average time on market in 2021 for a residential property in Carrabassett Valley is just under 12 days. Most listings are receiving multiple high-quality offers, resulting in bidding wars, and often times, the accepted offer is a cash deal requiring limited to no contingencies and no need for an appraisal.
All of these factors combine to form the most lucrative market for sellers in the history of Carrabassett Valley with strong return on investment for essentially all owners who decide to list.

And while buyers are seeing higher prices for Sugarloaf properties, they are also finding a wider variety of homes appearing on the market than ever before as the surging market spurs many owners to list their properties. This creates a very dynamic and rapidly changing marketplace, which can be difficult to manage without a local agent.
As the highest volume agency in the Sugarloaf area, representing 84% of all on-mountain listings in 2021, Mountainside Real Estate has helped numerous buyers and sellers navigate this new environment, providing unique insight and expertise into the Sugarloaf market. If you are considering buying or selling a home on or around Sugarloaf in 2021 or beyond, it is vital to have an agent with local, on the ground expertise in the Sugarloaf market.
To learn more or schedule an appointment with one of our brokers, click here: