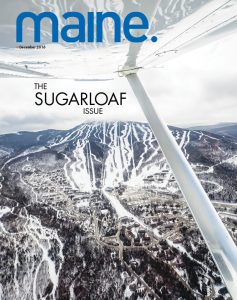 Maine Magazine featured one of many Fournier Construction homes in Carrabassett Valley in the annual December 2016 Sugarloaf issue. This stunning property at 6010 Nice Drive in Village on the Green is one of four homes in the desirable golf course neighborhood designed and built by Mark Fournier, who gave the magazine an inside look at the home's many special features.
Fournier has many projects in Carrabassett Valley under his belt, including the beautiful lodge at the Adaptive Outdoor Education Center.
Learn more in these excerpts from the piece, "Slope-Side Living":
After living in Auburn for several years, the couple invested in property on Sugarloaf Mountain, and Mark began building homes there (many of which they lived in for a period of time), including four in the golf course development, where their new house is located. Sugarloaf 's laidback vibe and welcoming community are a few of the reasons the Fourniers decided to settle here full time. "We've skied at a lot of places in Maine over the years," he says, "but when we would come here, it was different. We all had one thing in common: the mountain, the feeling only it can give you."

Like most people who live in the Valley year-round, Mark and Venise wear many hats. Mark does everything from drainage, stonework, hardscape, and landscaping to serving as general contractor on bigger projects, like the new Adaptive Outdoor Education Center lodge. In the winter, when construction work is slow, he operates a snowcat on the mountain. Venise, the human resources specialist and bookkeeper at Carrabassett Valley Academy, is also on the boards of the Carrabassett Valley Public Library and the Sugarloaf Mountain Ski Club. "People who live here are very hard working. The waitress who served you last night may also be an ed tech at the local school and in her free time work as an ambassador for the mountain. It's amazing."
Read more articles like this in Mountainside Real Estate's lifestyle column, Life in the Valley.