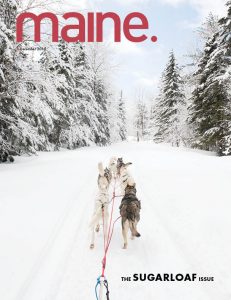 Mountainside Real Estate helped some Boston-based newlyweds find their perfect home at Sugarloaf, and their real estate success story was featured in the December 2019 issue of Maine Magazine.
The rustic gray lodge features six bedrooms and four bathrooms, with ski-in/ski-out access right off the West Mountain trail, which was perfect for this couple looking to upgrade.
Excerpts from "Slope-side Story:"
Instead of sharing a condo on the east side of the mountain where they met, they wanted a bigger place so they could entertain friends and family. ("West mountain is quieter," Meghan adds. "And we have such great views.") The house sleeps 14 people and has an open living room and dining area on the second floor—with windows that look out toward Bigelow and Cranberry Mountains—that are perfect for parties. "I was born in Montreal, and we had a home nearby on the mountain," Simon reveals. "I'm basically trying to recreate the life I had when I was very young. Since I was three years old, I've been skiing—every weekend, every Christmas, all holidays. I was skiing all the time."

Simon is the one who spotted the gray house, which is conveniently located on the ski-way. "It wasn't for sale at the time," he says, "but we asked Sam Punderson, our agent at Mountainside Real Estate, and he called the owners. When we saw it, we fell in love." For him, the biggest selling point was the tuning room located on the first floor. He also loved the spacious mudroom, with plenty of space to store cold-weather clothes, and the garage, where he can hang his snowshoes. "We were out of space at the condo," he says.
Learn more about this special property:
We're sorry, but we couldn't find MLS # 1407972 in our database. This property may be a new listing or possibly taken off the market. Please check back again.
Read more articles like this in Mountainside Real Estate's lifestyle column, Life in the Valley.