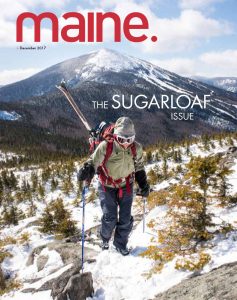 The December 2017 annual Sugarloaf issue of Maine Magazine explored a family's custom-built lodge on Forest Lane in Spruce Knoll. The property features an open-concept floor plan and statement pieces like a stone mosaic fireplace and tree-trunk columns in the kitchen.
Spruce Knoll is a desirable single-family home neighborhood just off the Access Road, a stone's throw from apres-ski bar The Rack BBQ and just behind the campus of Carrabassett Valley Academy. It's along the shuttle route and tucked next to Sugarloaf Village. The home itself has an unusual "upside-down" design, with the kitchen, dining, and living rooms on the second floor to utilize the mountain views and the guest rooms and garage on the first floor.
Learn more in these excerpts from the story, "Welcome Home":
While the kitchen is the undisputed heart of the home, the living and dining rooms are also mighty inviting. Long, low-slung couches provide seating during cocktail hour or after supper club has adjourned. The plush sofas are centered around a custom-built fireplace, which is made from local stone and features a mosaic of the snow-capped mountain based on a drawing by Peter's son, Ryan Kohler, who works as an oil painter in Skowhegan. Nearby, a live- edge, 14-foot-long dining table occupies a place of honor near the windows. (The living area, kitchen, dining room, and owners' suite are located on the second floor, which optimizes views of the nearby mountain.) "I built that great big table from one single piece of pine," Peter says. "She can cook these amazing nine-course meals, which last three hours, and everyone has space at that table." Kayla blushes slightly when her husband sings the praises of her cooking (particularly her peel-and-eat garlic lemon shrimp), but she too adores the rustic setup. "That's my favorite part of the whole house—that table," she says. "We always want to have space for family and friends to eat with us. Always."
While most of their parties take place upstairs—and occasionally end on the second-story covered deck, which boasts a cedar-sided hot tub—the first story was also designed with guests in mind. "The goal was to have our kids coming, and someday, they can bring their kids up," says Peter. "And so we made the lower level a two-bedroom apartment with a bath and kitchenette with a sink, stove, and refrigerator." There's also a game room for days when the cold winds of the Carrabassett Valley get too bitter for young skiers to brave.
Photos by Erin Little