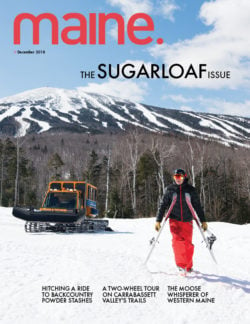 The December 2018 annual Sugarloaf issue of Maine Magazine explored "the big red house" right off the Snubber trail at 5003 Webber Street, purchased by a tech-savvy family with three college-aged sons in October 2017.
Like most real estate transactions at Sugarloaf, the house was move-in ready at closing. It came fully furnished and stocked with everything from spatulas in the kitchen drawers to air mattresses for guests. The five-bedroom home is now decked out with the latest technology, including radiant heat under the outdoor patio, melting piles of snow with ease. The Nest home thermostat is linked to the owner's smartphone app, so the house can be nice and warm by the time the family arrives for the weekend.
Learn more in these excerpts from the story:
"It was like Christmas every day when we moved in," says tech entrepreneur Bob Neveu. "You'd open a drawer in the kitchen and it was like opening a present. Here's a spatula and a whisk! Here's a mixer!" He laughs at the memory. Spatulas and whisks might not sound like the most exciting finds, but for Neveu and his family, it was a great pleasure to discover everything about their fully furnished, fully decorated Sugarloaf home. "It's hard to find a single-family home on the main mountain," he explains. "We're really, really happy with what we have."

He and his wife, Katy, purchased the big red house in the fall of 2017, and in the past year the Neveu family has used the house "religiously, every single weekend," he says. The biggest draw was the location. The three-story house is down-mountain from the Birchwood Condos and just a quick walk from two access trails. While they briefly considered buying a condo, with three college-aged sons, the couple knew that it wouldn't be the right fit for their rowdy crowd. "We have a lot of space to sleep everyone," Neveu says, thanks to the five bedrooms. "The place came with folding cots and air mattresses. It's not atypical to see four college kids sleeping on mattresses in the basement game room on any given weekend." With seven bathrooms, it's also not too much of a struggle to schedule shower time before heading out to the slopes. And the huge "ski room" in the basement allows skiers to take off their boots, step straight onto a heated floor, hang everything up, and head upstairs without missing a beat.