Now that you've finally found your perfect vacation home in the Western Maine Mountains with Mountainside Real Estate, you'll need to decorate it with authentic and rustic decor from the local area. Here's a list of local shops where you can find everything you need.
The Sugarloafer Shop
Sugarloaf Base Village, Carrabassett Valley
207-237-6718, Website
This wouldn't be a real list if we didn't start off with the Sugarloafer Shop, the one-stop shop for all things Sugarloaf-related at the resort. Located in Village West above the sandwich shop D'Ellies, the Sugarloafer sells all kinds of souvenirs, from coasters to local art and photography and even miniature mechanical chairlifts for your mantle.
The custom Sugarloaf logo signs are favorite closing gifts for Mountainside Real Estate clients and look perfect next to the front door of your new home. While most people opt for their last name, you can get creative with your design and try sayings like "Welcome to Camp." The shop also makes custom trail signs in addition to the standard "Narrow Gauge" and "Moose Alley," and will create (almost) anything you ask.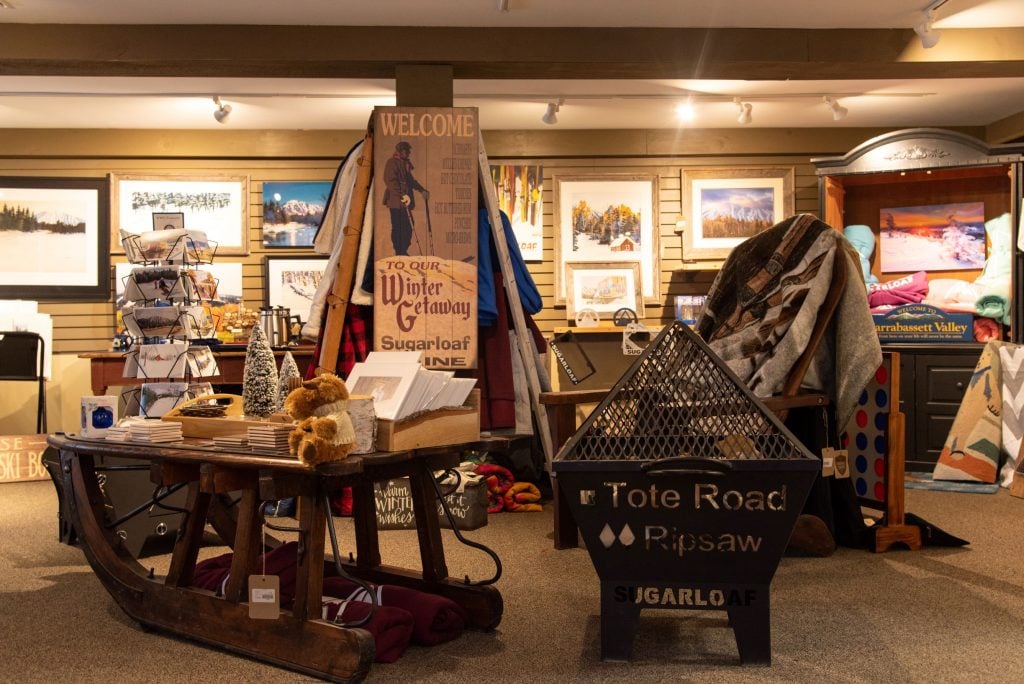 Birchwood Interiors
Sugarloaf Base Village, Carrabassett Valley
207-237-7000, birchwoodinteriors.com
Also located in Village West is the Valley's signature interior design and furniture store, Birchwood Interiors. The friendly and efficient designers can help with remodeling and also sourcing the best in rustic furniture, including antler chandeliers like the one featured in this spectacular home in Sugarloaf Village.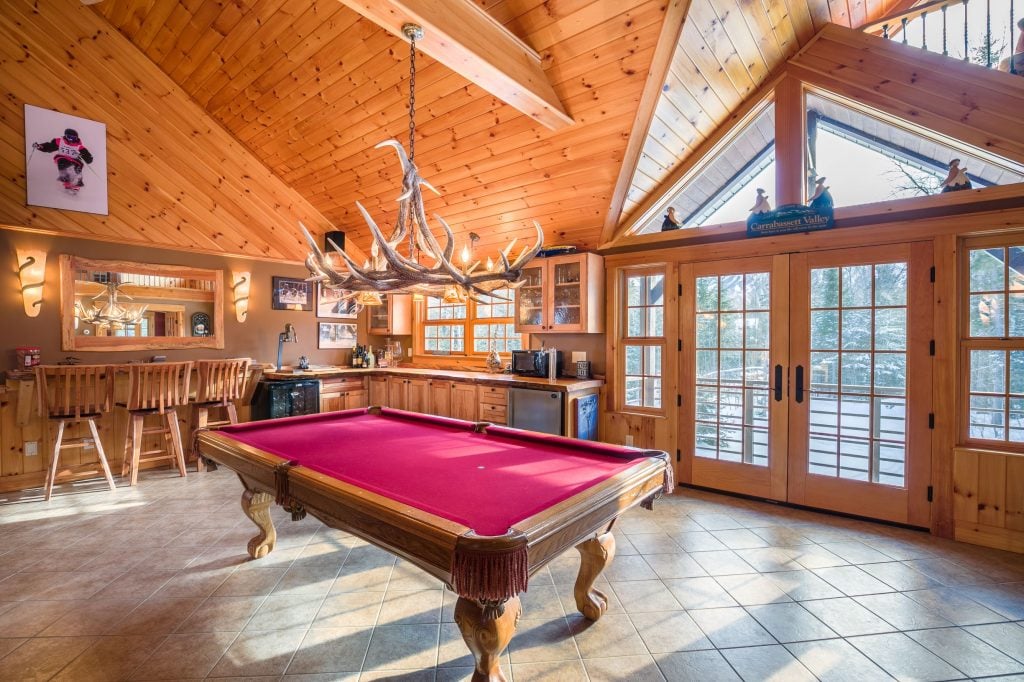 High Peaks Artisan Guild
245 Main Street, Kingfield (next door to Longfellows)
207-446-4316, Website
Many of the local artisans who set up vendor tables at the Sugarloaf Holiday Bazaar and the Homecoming Art Show sell their wares year-round at the High Peaks Artisan Guild in Kingfield. The multi-vendor store, art gallery and antique shop offers a wide selection, including handcrafted cribbage boards on moose antlers, beautiful paintings on skis, pottery, ceramics, and more.

Red Barn Upcycled Market
56 Main Street, Kingfield (Red Barn right next to Poland Spring)
207-577-8872, Facebook Page
This locally-owned shop is run by the talented Barbara Wiencek, who opened the shop five years ago in a vacant space next to the historic Herbert Grand Hotel on Main Street. Last summer, they built a new store on their property next to Poland Spring and reopened in the new location in June of 2020. You can find everything from repurposed antique furniture to upcycled and handmade crafts, ornaments, seasonal and garden decorations, cute signs and more.
Welcome Home Furniture & Accessories
2750 Main St, Rangeley
207-864-5644, Facebook Page
Part of Rangeley Lakes Builders & Supply Co, this expansive shop is worth the drive to Rangeley, showcasing a variety of furniture, linens, prints, glassware, drapes, and more, with a seasonally-inspired showroom that is constantly changing with new inventory.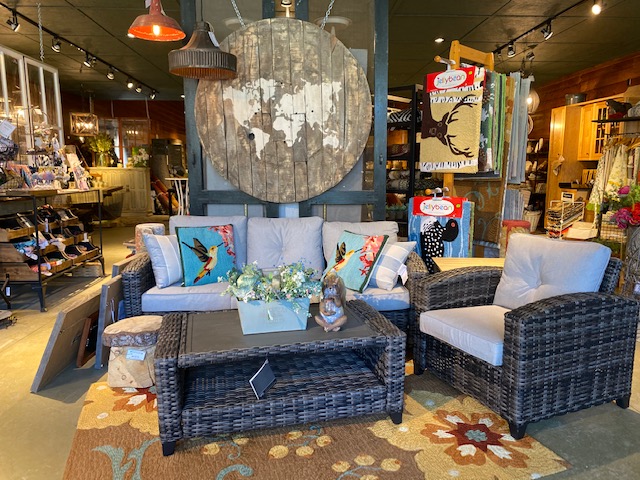 Antique Shops
Various Locations
Everyone loves the look of authentic antique skis, poles, sleds and snowshoes for decorating classic ski properties, like the ones above the windows in the beautiful Timbers townhouse below.
The Western Maine Mountains Antiques Trail includes local antique shop Nest in Stratton, and a few others that are worth the day trip in Strong, Phillips and Wilton. Farmington also features an exciting selection of multi-dealer antiquing, including Old Ford Antiques & Collectibles and Frost Antiques, and right downtown there's the Mercantile and Country Primitives Decor.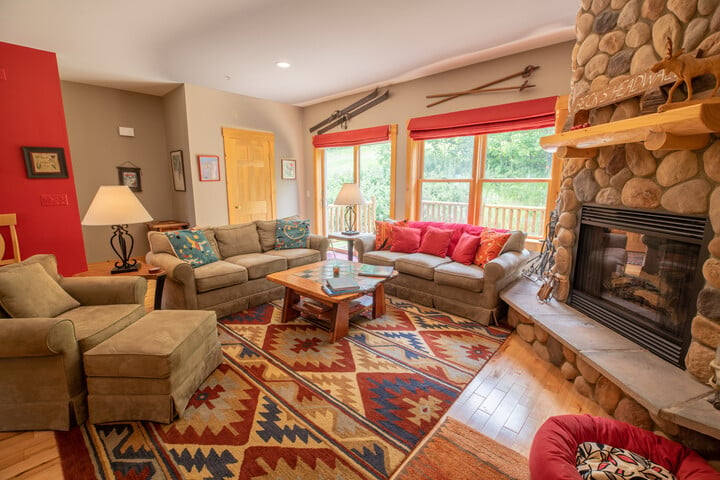 Handmade Adirondack Ski Chairs
Various Locations
Nothing completes a ski retreat like handmade furniture sourced from old ski equipment. If you don't know a friendly local carpenter to assemble one for you from your old skis, there a few different options out there. Instagram user @maine_ski_chairs churns out a range of ski-related furniture including end tables, footrests and the signature Adirondack chairs. Get in touch by email at [email protected] for questions or custom orders. There's also Prospect Mtn Furniture in Minot and a house on the Saddleback access road that sells them from their front yard. Know other resources? Shoot us an email and we will add it to the list!
Interested in tackling a DIY project? Check out these assembly guides from Yankee Magazine and SKI Magazine.