Sugarloaf is a very special place for Broker Deb Pierce.
Not only has she been listing and selling at Sugarloaf since 1983, Pierce has been here through much of the construction that has happened over the years – everything from condo development projects to the Sugarloaf Mountain Hotel.
Honesty and integrity have proved to be assets to Pierce in her career, and she loves what she does. "My coworkers are great people," she said, "and I love the opportunity to meet and work with those who are looking to be part of the Sugarloaf community and enjoy all that our mountain has to offer."
Pierce recently had the opportunity to list this very unique property. The home was originally two 3-bedroom condos but was combined and rebuilt into a single free-standing townhouse. "The location is premier – off of the Buckboard Trail – and the quality of workmanship that was done to the property was remarkable, with lots of attention to detail. From the moment I walked in, I knew the potential of this beloved ski home."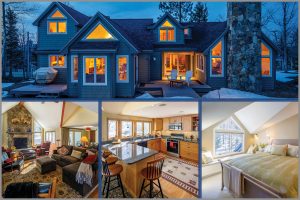 With such a unique and attractive property, Pierce faced competition from other brokers for the listing, Ultimately her experience, thorough preparation, and ability to appropriately value the property based on her knowledge of the market, were important to the sellers and enabled her to secure the listing.
"I feel my experience with listings over the years did make a difference in securing this listing," she said.
After the sale, the sellers of this particular property wrote to Pierce to thank her for her work on the sale. "They said my professionalism, attention to detail, and pure love and knowledge of the real estate market was head-and-shoulders above anyone else in our market," Pierce said. "They were delighted to have experienced a business transaction that surpassed their expectations in many ways – value, ease and enjoyment."
"It's always a pleasure working with sellers and buyers," Pierce said. "There will always be challenges, but your experience is what helps you get through them."
PROPERTY VITALS: 3 Bedrooms | 2.5 Baths | 2,656 square feet
PROPERTY LOCATION: Fox Fire Road (off Mountainside Road)
LIST PRICE: $1,350,000
SALE PRICE: $1,500,000