Born in Alaska and raised in Farmington Maine, the mountains are a way of life for Barb Larson.
"I love being a part of a team that can make magical moments happen for so many families, and make the dream of slope side living at the Loaf a reality for our clients," said Larson. That makes sense coming from a broker once described by a client as "a true magician. She was so fast and efficient with everything, getting things set up and putting in our offer like lightning. She guided us with several key tips that helped us so much!"
As a broker who appreciates the importance of the memories created in a home,  Larson is as wonderful at representing those just starting out at Sugarloaf, as those who've been enjoying it here for years. Her ability to connect with clients and the time and effort she puts forth have great impact.
Larson found herself with a rather unique listing in this Woody Creek property. A true family retreat, it was beloved by the family and enjoyed by four generations. The house was well-built in 1975 and still belonged to the original owners. It contained a number of notable features including doors from the former Boston Symphony Hall and a grand piano with custom lighting.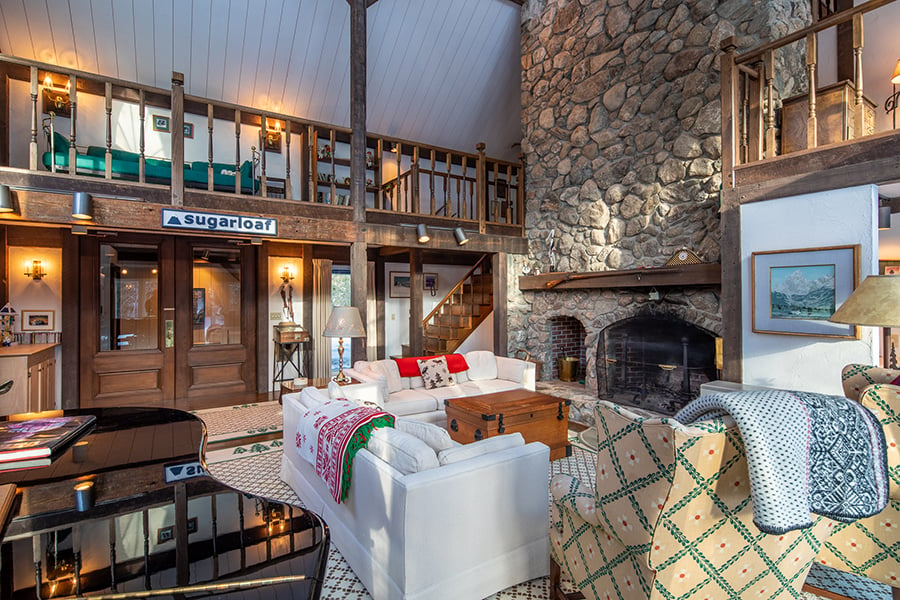 "It was a very emotional sale, and it took roughly six months to work through even getting it listed," Larson said. She spent considerable time preparing the sellers for the process, including how to interpret and navigate multiple-offer situations.
"It was very important for the sellers that their family would be able to have their last visits to the home," Larson said. "So an extended closing date was also a key factor in ensuring the entire family could ski or snowboard one last time while reminiscing around the fireplace for their final cup of tea."

Larson facilitated a smooth sale, and was able to meet with the sellers on multiple occasions—often at very short notice—to work through their personal property concerns or discuss features and qualities of the house.
Mountainside Real Estate's proximity to their properties made these frequent meetings possible and gave Larson a unique understanding of the property and its meaning to its owners.
"Our location sets us apart by a mile," said Larson. "We have our finger on the pulse of the local market at every moment of the day."
Because they're a part of the Sugarloaf family & community, and with their skill and market share, the agents at Mountainside Real Estate have an edge that offers their clients the best probability for success in this market. Working with a real estate agency like that is important. Barb Larson is an agent who is efficient, skilled and gives her all to support her clients. And working with a broker and like that… that's essential.
PROPERTY VITALS: 6 Bedrooms | 4.5 Baths | 3,600 sq. ft.
PROPERTY LOCATION: Woody Creek
LIST PRICE: $965,000
SALE PRICE: $1,200,000