The 2021 real estate market in the Sugarloaf region was unprecedented. As we move into the new calendar year, there is a lot of uncertainty surrounding not only our local market in the Western Maine Mountains, but with the real estate industry in general throughout the entire country.
There were some key indications in 2021 that show a change from the unusual market of 2020 that was drastically impacted by the pandemic. In this article, we will review what transpired in the 2021 market throughout Carrabassett Valley, including breaking the statistics down into numerous key areas, including developments, both on and off mountain, that saw the most profound activity in 2021.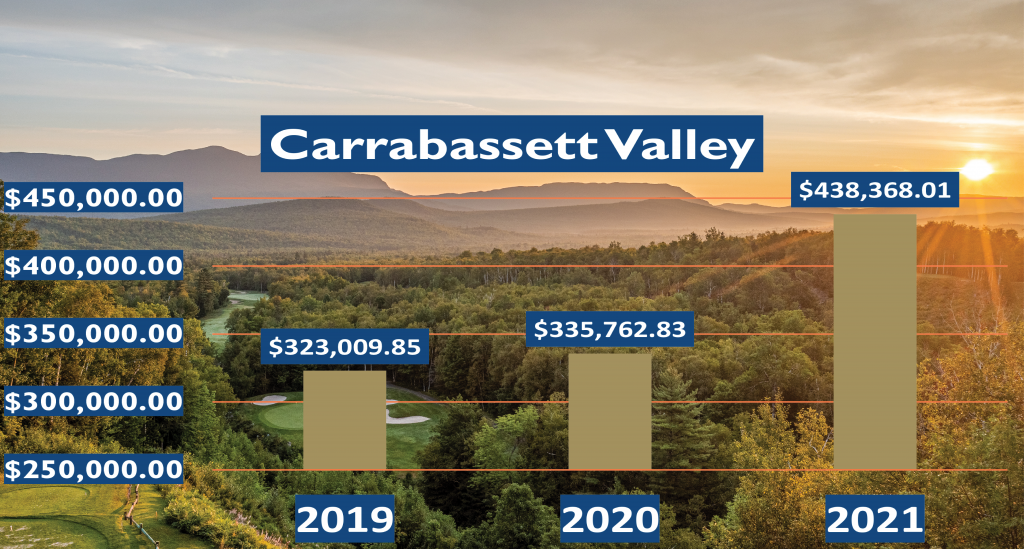 In 2021, the median sales price of a properties (residential and land) in Carrabassett Valley increased 30.56% from 2020 and 35.71% from 2019. This marks a dramatic rise in the value of properties in the valley, which had experienced a steady, yet gradual trajectory in value over the last few years, before experiencing an exponential increase since the onset of the Covid-19 pandemic.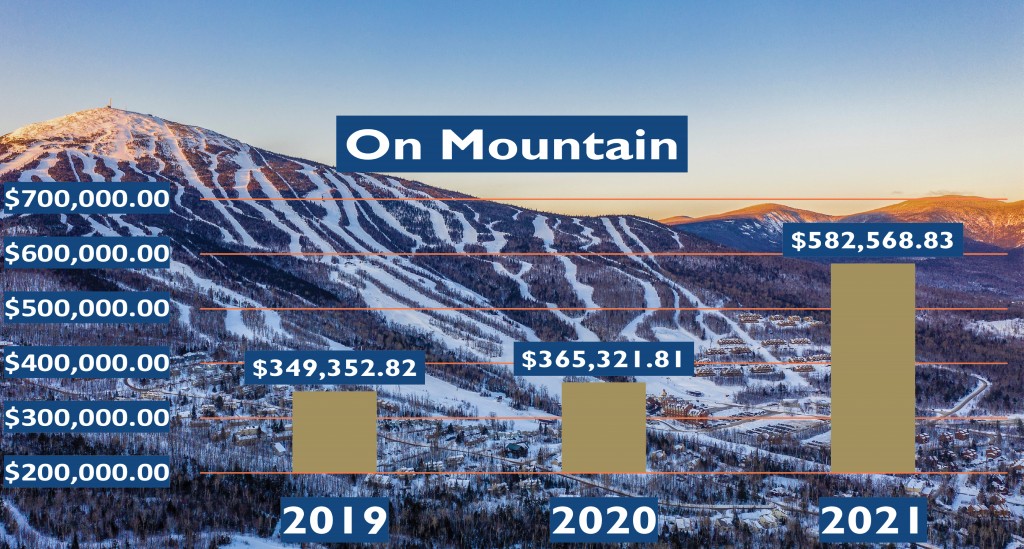 On mountain properties always tend to be of higher value than off mountain properties as people seek the convenience of trailside ski-in/ski-out access, greater shuttle availability, easier logistics getting to and from the chairlifts (especially in the event of acclimate weather), and being closer proximity to the amenities, such as dining and shopping, that make the après ski scene at Sugarloaf so enjoyable. In 2021, the median sales price of on mountain properties rose by 59.57% from 2020 and 66.76% from 2019.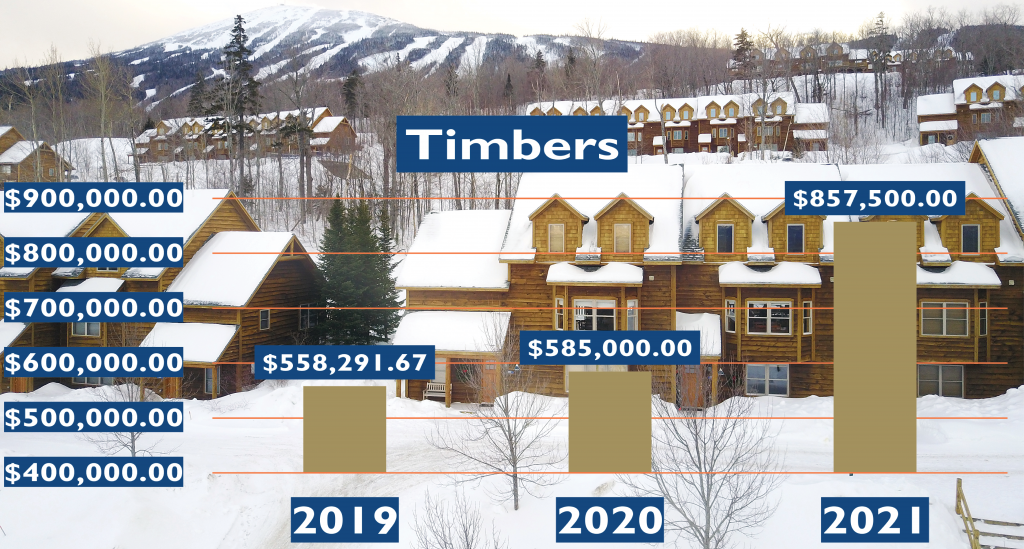 You won't find another place quite like the Timbers on mountain. With views that go on forever, these exclusive ski-in/ski-out townhouses are located slope-side just above the Super Quad and are some of the most in-demand properties on mountain. In 2021, the median sales price rose 46.58% from 2020 and 53.59% from 2019.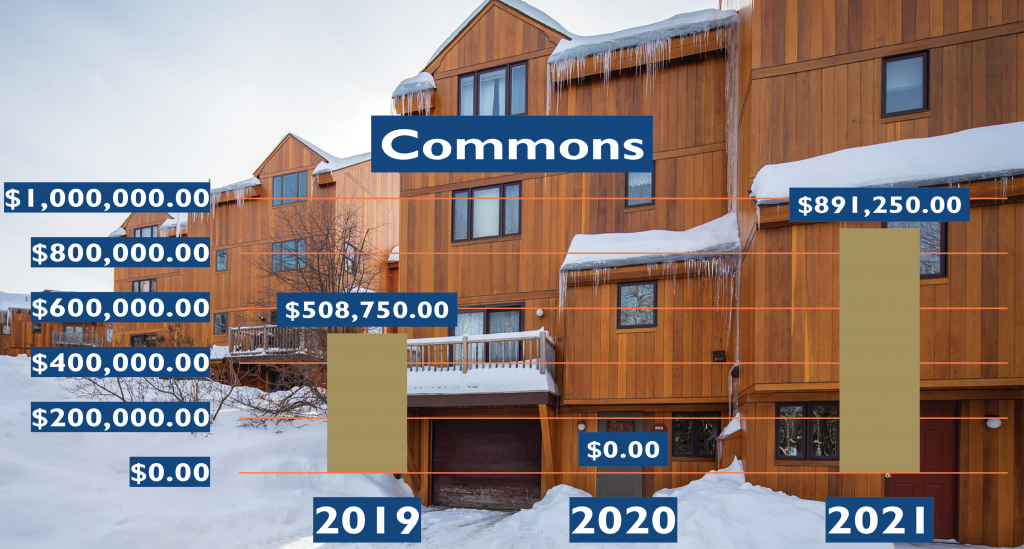 The Commons townhouses are another great ski-in/ski-out development. Sitting off the Snubber Trail and just below the Sugarloaf Inn and the Shipyard Brew Haus, these properties are some of the most conveniently located on mountain. There were no sales of any Commons units in 2020, but 2021 saw a monumental rise of 75.18% in the median sales price from 2019, marking the largest two year increase of any development on mountain.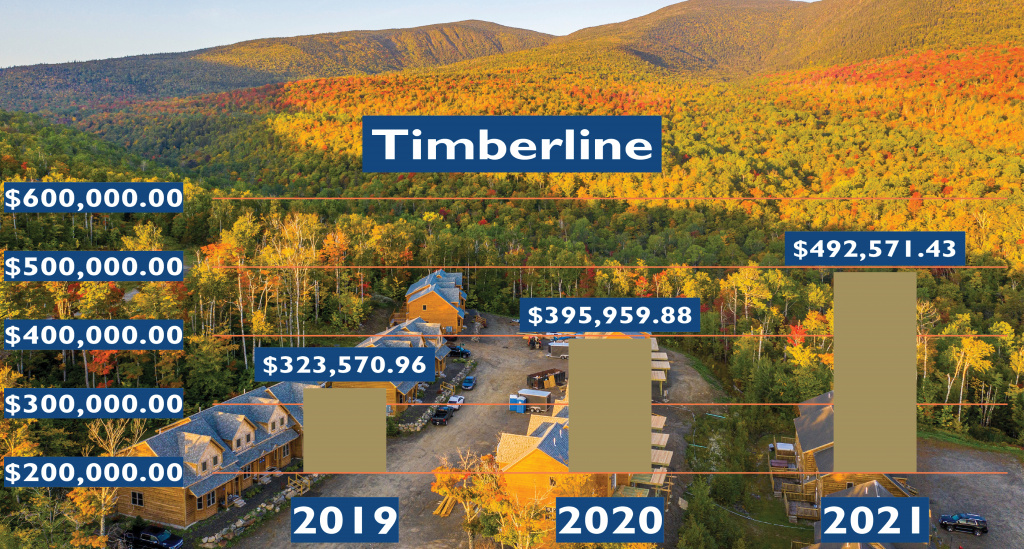 Located in the West Mountain portion of the resort, the Timberline townhouses sit in the shadow of Crocker Cirque and offer great views of the surrounding mountains. In 2021, the median sales price in this development increased 24.4% from 2020 and 52.23% from 2019. With the major West Mountain Expansion coming in the near future, which will create roughly 140 acres of new beginner and intermediate trails and also introduce a new highspeed, high-capacity chairlift running from the West Mountain Road all the way to Bullwinkles Restaurant, the value of properties in this development will likely continue to rise.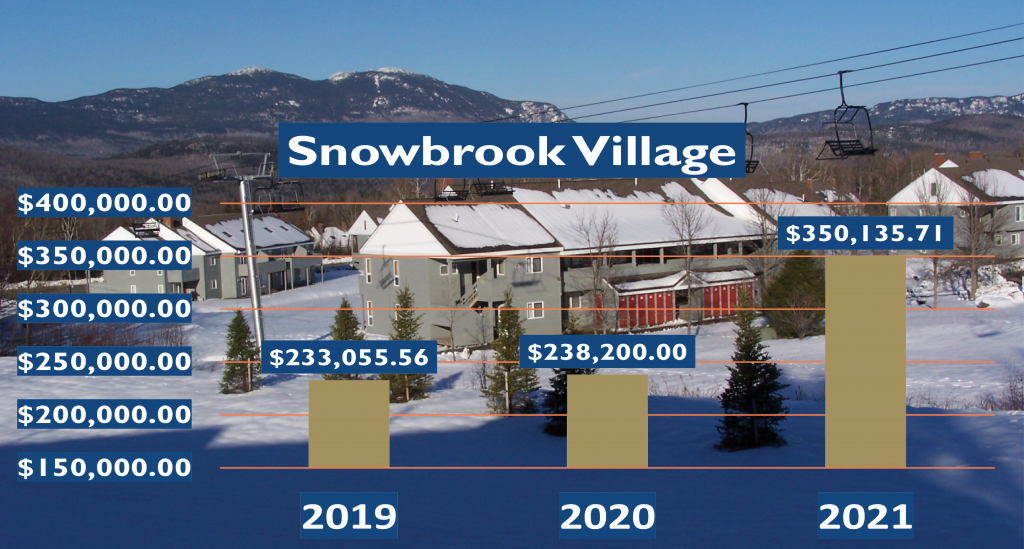 The largest condominium complex at Sugarloaf, with 216 units throughout 18 buildings spread over 30 acres, Snowbrook Village is home to tennis courts, an ice skating pond, an indoor spa complex with a pool, sauna, hot tubs, and game room, making it one of the most popular developments for young families. Units in this development also saw an astonishing rise in value over the last two years. In 2021, the median sales price rose 46.99% from 2020 and 50.24% from 2019.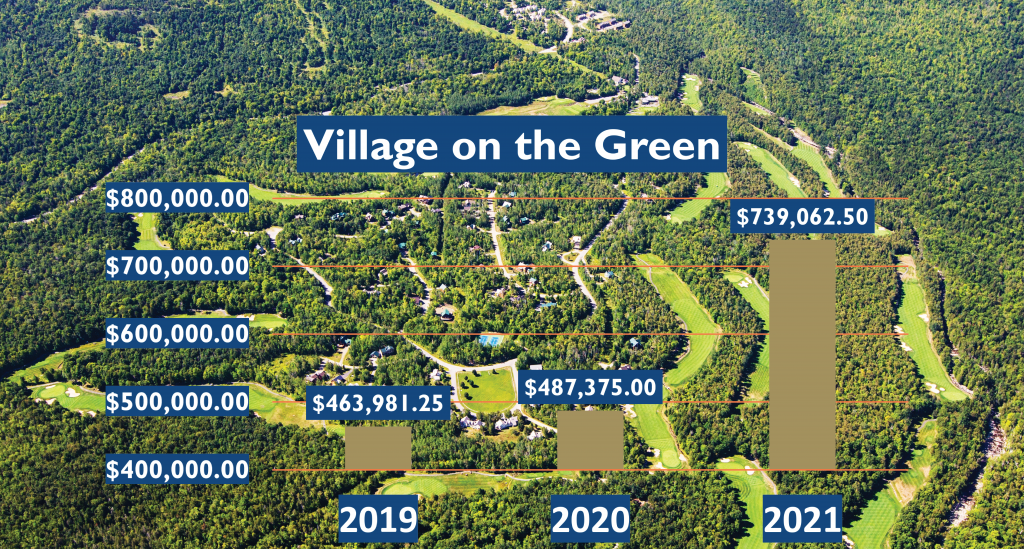 Tucked along the fairways and meandering through the forest surrounding the award-winning Sugarloaf Golf Club sits the upscale Village on the Green neighborhood. This development is made-up of a combination of private single-family homes and duplex condos situated away from the hustle and bustle of the base area, yet only a short shuttle ride to the chairlifts. In 2021, the median sales price of properties in this development increased 51.64% from 2020 and 59.29% from 2019.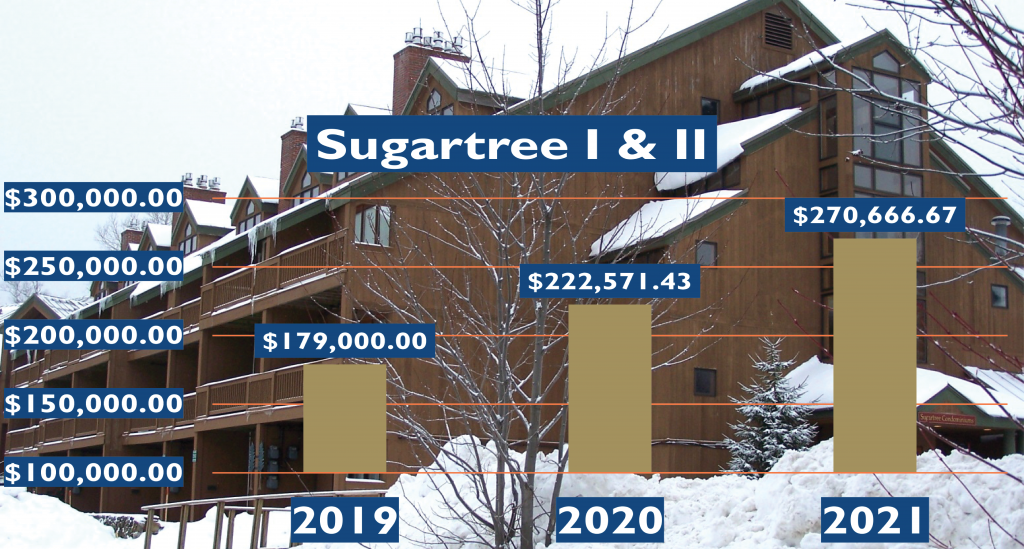 Connected to the Sugarloaf Sports & Fitness Center, Sugartree I & II sits just off the Snubber Trail offering ski-in/ski-out access. These studio and studio+loft condos are some of the most affordable units on mountain and another favorite of young families. In 2021, the median sales price in this complex increased 21.61% from 2020 and 51.21% from 2019.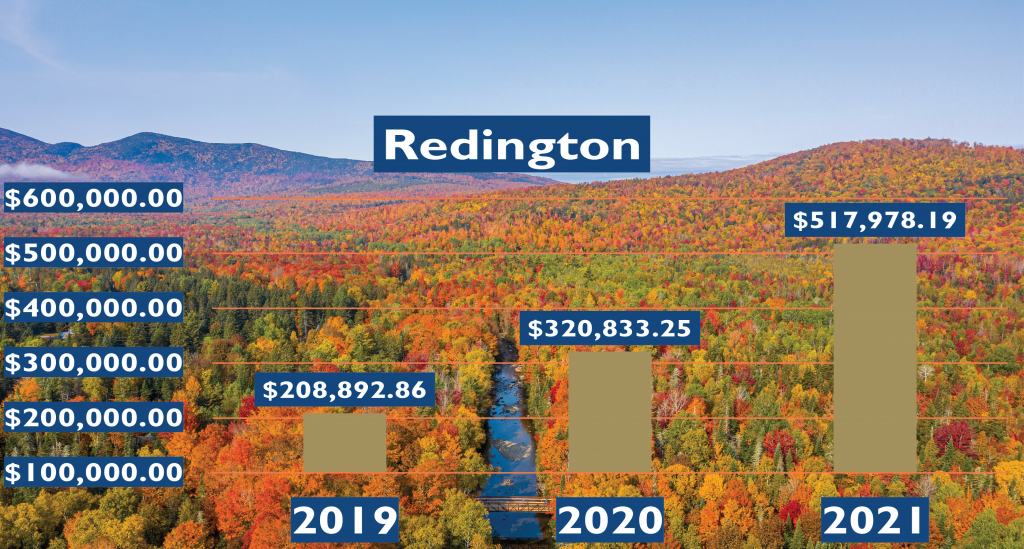 The largest off mountain development in Carrabassett Valley, Redington offers homesites that are more private and affordable than that which can be found on mountain. However, the increase in value of properties in this development over the last 2 years has been stupendous. In 2021, the median sales price increased 61.45% from 2020 and a jaw-dropping 147.96% from 2019.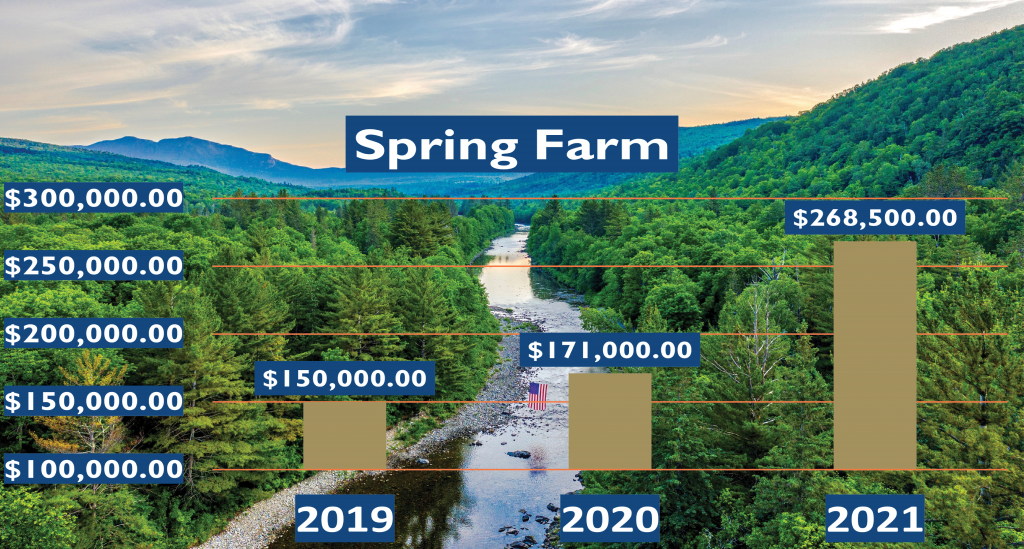 Nestled along the trickling waters of the Carrabassett River and sitting just south of Tufulios Restaurant, Spring Farm offers small single-family homes, camps, and cozy A-Frames in a private and quiet neighborhood. In 2021, the median sales price of properties in this neighborhood increased by 57.02% from 2020 and 79% from 2021.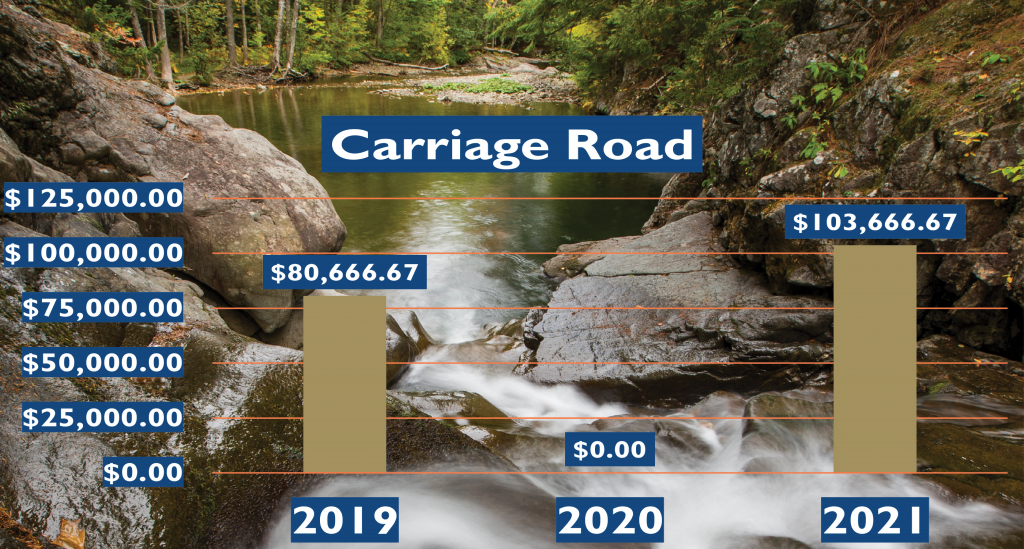 A variety of single family homes are tucked in along the banks of Poplar Stream, Huston Brook, and the Carrabassett River. Properties in this quaint location have access to the Narrow Gauge Pathway and the Maine Huts & Trails network, offering quick and easy access to miles upon miles of pristine multi-use recreational trails and waterways. In 2021, the median sales price of properties in this extended neighborhood increased 31.11% from 2020 and 34.51% from 2019.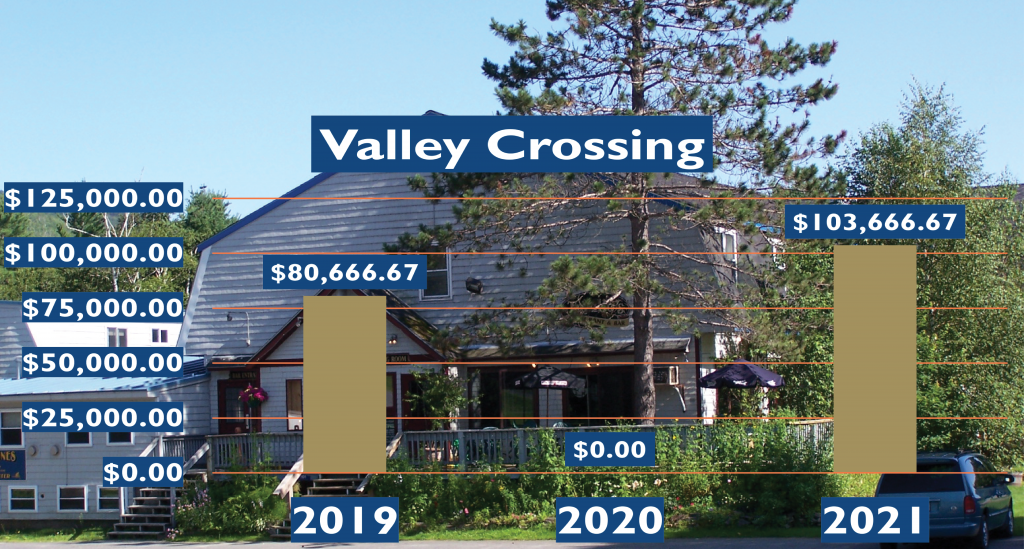 These condominium units are located in the same building as Tufulios Restaurant and outback lining the Carrabassett River. There were no sales of units in this development during 2020. In 2021, however, there were numerous units sold and the median sales price increased 28.51% from the 2019.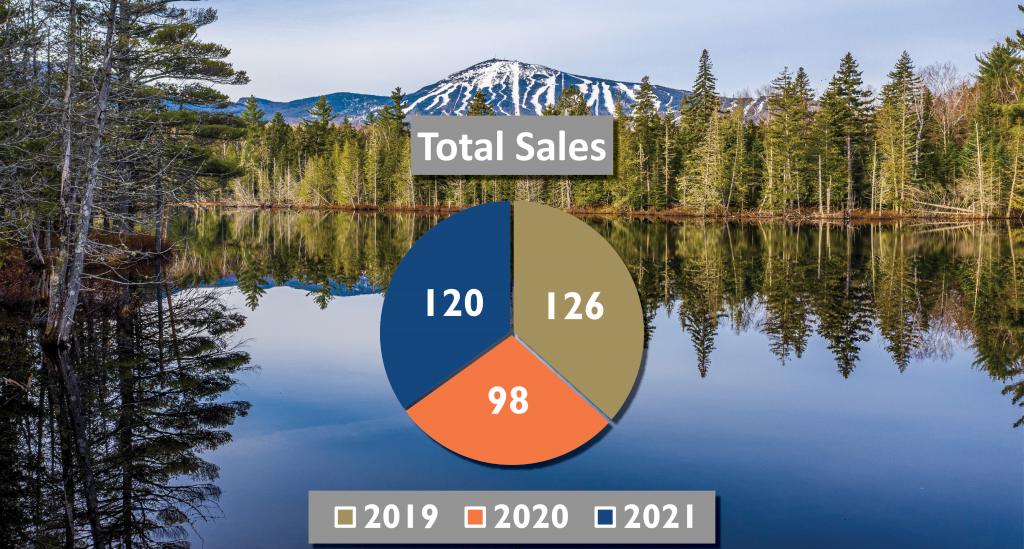 As you can see by the graphic above, total sales in Carrabassett Valley increased by 22.45% from 2020, falling 6 sales short of the total in 2019, which was the highest number of sales recorded during the 5 year period leading up to the start of the pandemic. This trend may indicate a return to a more normal level of sales, which is directly dependent on the overall quantity of listings. Overall listings plummeted during 2020 due to the pandemic as people sought to hold-on to their rural refuge as urban lockdowns loomed and were enacted nationwide.
Property values in Carrabassett Valley have seemingly entered into a new era. With the West Mountain Expansion on the horizon, property values in the valley, both on and off mountain, are certain to continue gaining value as Sugarloaf grows and becomes more of a four-season destination. Another factor leading to the increased property value in this area is the ushering-in of the remote work age, making Carrabassett Valley a more viable place to live and work full-time and a wonderful location to raise a family in the midst of an outdoor recreational oasis.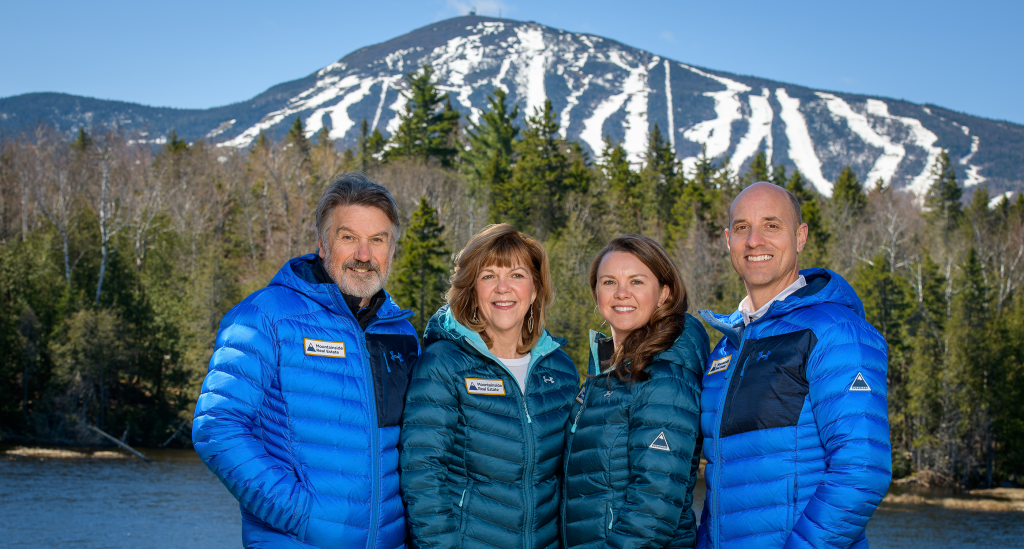 Mountainside Real Estate Brokers (From Left to Right: Jeff Kennedy, Deb Pierce, Barb Larson, Sam Punderson)
As Sugarloaf's Official Real Estate Agency, we have a firm grasp on the local market. In 2021, Mountainside Real Estate represented 60% of all listings in Carrabassett Valley and 68.75% of all on mountain listings. Working everyday from our office in the Sugarloaf base village, we have our finger at the pulse of the local market at every moment of the day, allowing us to spot trends as they are happening. In the fast changing market of 2021 (which has carried over into 2022), we noticed many agents who only work here part-time have difficulty keeping up with how quickly the market was advancing.
Mountainside Real Estate has a plethora of quality clients seeking to buy in the Sugarloaf region, and we are primed to sell your property fast, as smoothly and stress-free as possible for you, and to get the largest return-on-investment for your beloved Sugarloaf home.
Contact us today to speak with one of our slope-side living experts, or to set-up a free market valuation on your property.
PHONE: (207) 237 – 2100 | EMAIL: re[email protected] | OFFICE HOURS: 8:30 to 5 (7 days a week)