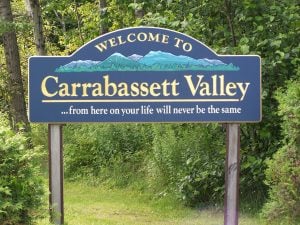 Renowned for the better part of a century as a premier winter destination thanks to Sugarloaf Mountain, one of the largest ski resorts east of the Rockies, the greater Carrabassett Valley region continues to grow into one of Maine's favorite year-round destinations.
As you travel north along Route 27, you can't help but notice the fresh air with each breath as you climb higher and higher into the mighty mountains of the Maine High Peaks area, away from the hustle and bustle of the coastline. This hidden gem is a mecca for any outdoor enthusiast, a recreational oasis right at your fingertips, just waiting to be grasped.
Here are 5 must-do summer activities in the greater Carrabassett Valley region for you to discover: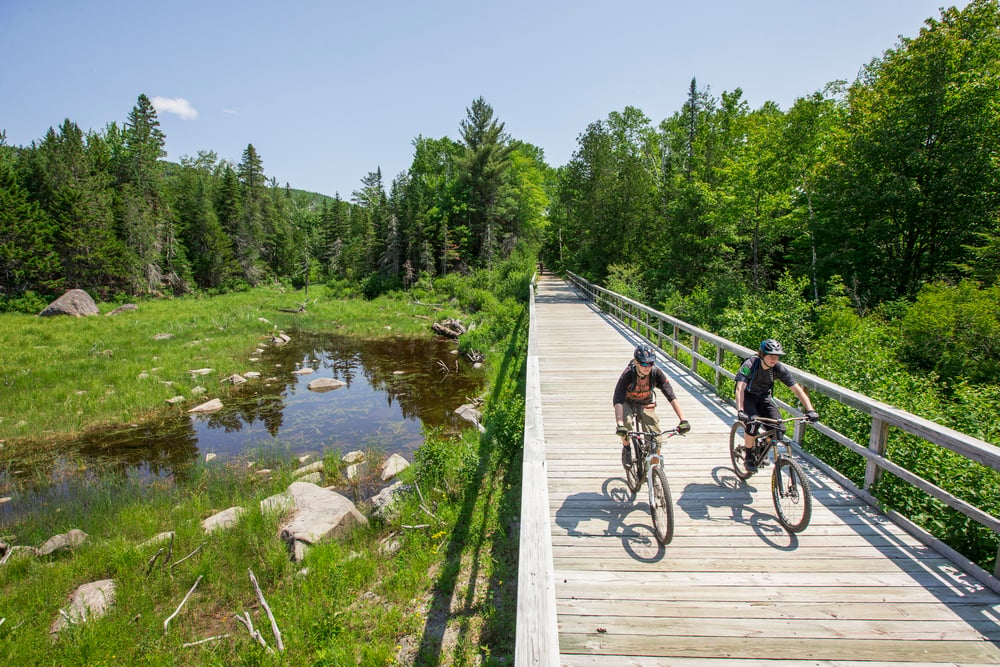 Whether you are hiking, biking, or taking a leisurely stroll with your favorite four-legged friend, this trail network is perfect for outdoor enthusiasts of all ages and ability levels.  Hugging the east bank of the Carrabassett River, the trail system was established in 2001 as part of an effort between the town of Carrabassett Valley and the state to create a non-motorized multi-use recreational trail network utilizing the remnants of a historic railroad bed.
The trail has a gentle grade that gradually increases upstream from the town office with numerous off-shoot single-track mountain biking trails to explore. Many picnic areas are nestled along the Narrow Gauge Trail to stop and take in the scenic landscape or enjoy a snack. You can access the trail system from three different parking areas: Stratton Brook Trailhead (right across from the entrance to the Sugarloaf Access Road), Campbell Field Bridge Trailhead, or the Airport Trailhead. For directions to the trailheads, click here.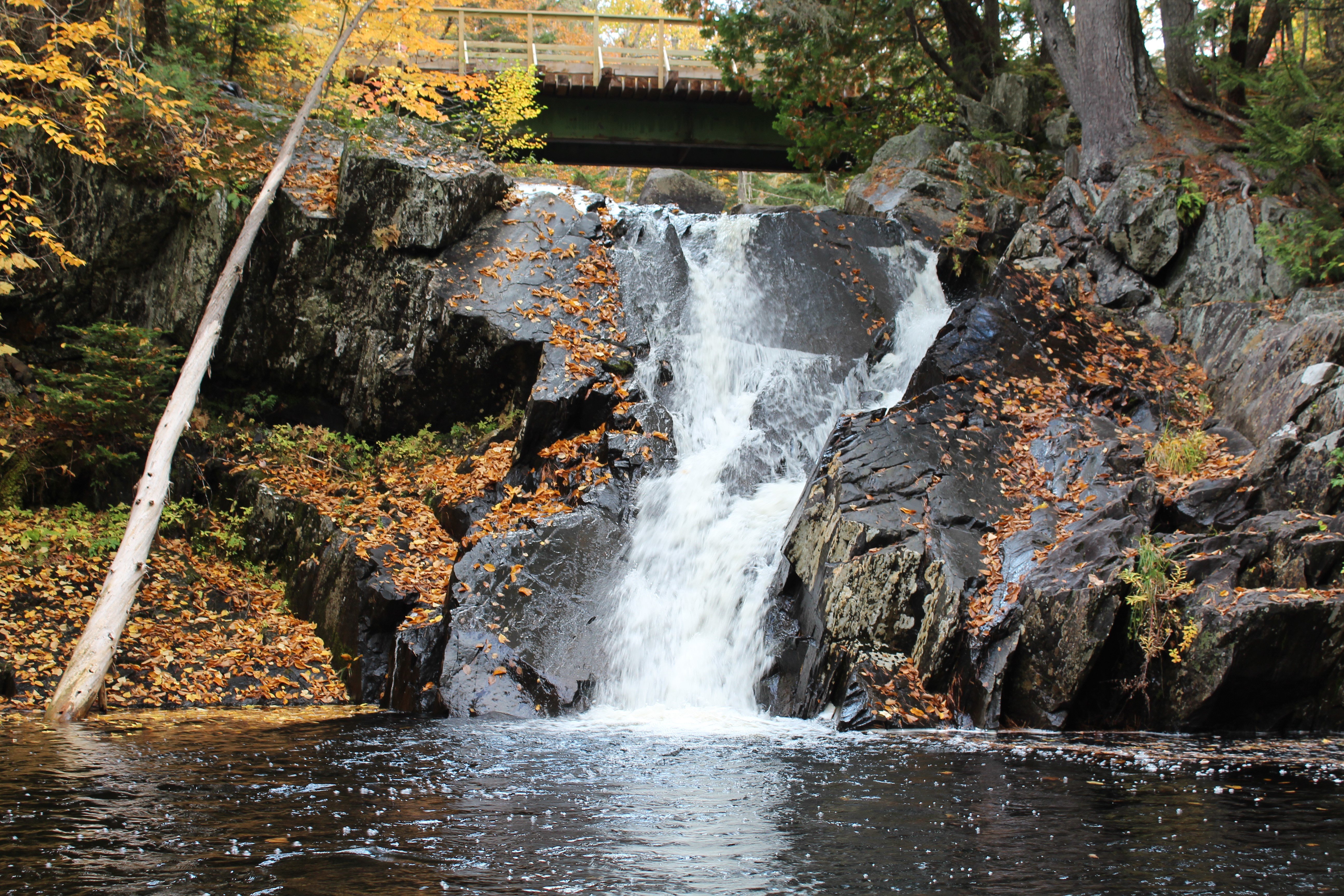 At Poplar Stream Falls you'll discover two waterfalls dropping 24 and 51 feet into pools of clear and refreshing mountain water; the perfect adventure for a steamy summer day! Make sure to pack a lunch and water, as you have a round-trip trek of 6.2 miles of moderate difficulty to access these beautiful destinations. Park at the Airport Trailhead when setting out on your voyage. There are two alternative routes for accessing these destinations by traveling on the Maine Huts & Trails system, via either Warren's Trail or Larry's Trail. Using one trail on your way in and the other on your way out is the perfect round-trip route that allows you to visit both waterfalls, situated just a short distance from each other. The trails run along opposite banks of Poplar Stream, with delightful scenery and various swimming holes along the way. Although the trip is relatively straightforward, be sure to follow your map and pay attention to trail signs as the Maine Huts & Trails system is extensive, traversing 80+ miles of isolated back-country terrain.
*PLEASE NOTE: The Huts are not open to the public at this time*
For the full Maine Huts & Trails trail map, click here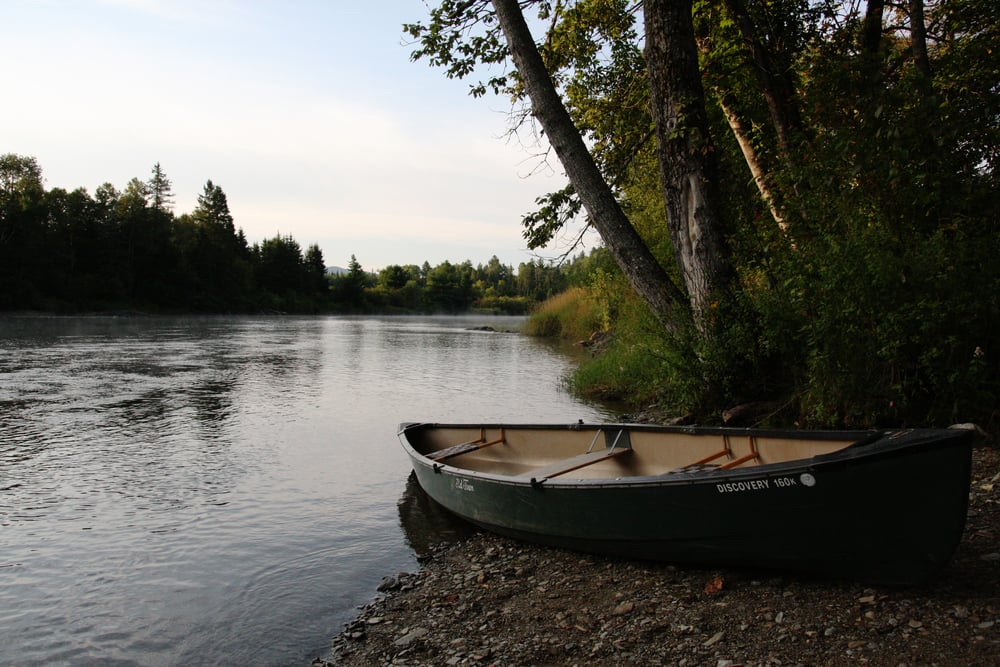 A pristine 740-mile network stretching from the New York Adirondacks to Fort Kent, Maine,  some of the most beautiful stretches of the Northern Forest Canoe Trail lie along the North Branch of the Dead River and Flagstaff Lake. The North Branch of the Dead River flows from the Chain of Ponds near the Canadian Border south 25 miles to Flagstaff Lake. There is a variety of flatwater, lakes, and rapids, making for a great overall paddle. The journey can either be done on a 2-3 day trip, or broken up into day trips thanks to numerous access points along the way. This trip also boasts some rich American history, as Benedict Arnold led 1,000 men on a paddle up this exact stretch of river during their fateful march on Quebec during the American Revolution.
For experienced backcountry canoers and adventures, this trip is definitely doable on your own. However, for those who feel more comfortable alongside a seasoned Maine Guide, check out Four Peaks Guide Service, located in Kingfield and run by husband and wife team, John & Stacey McCluskey. John is a third-generation Maine Guide with 20 years of experience specializing in whitetail deer hunting and fly-fishing for wild native brook trout. Stacey is a guide and educator with 18 years of experience operating summer camps and outdoor education courses for local children and youth groups visiting the Western Maine Mountains region. She specializes in hiking, paddling, naturalist activities, youth groups, and family trips.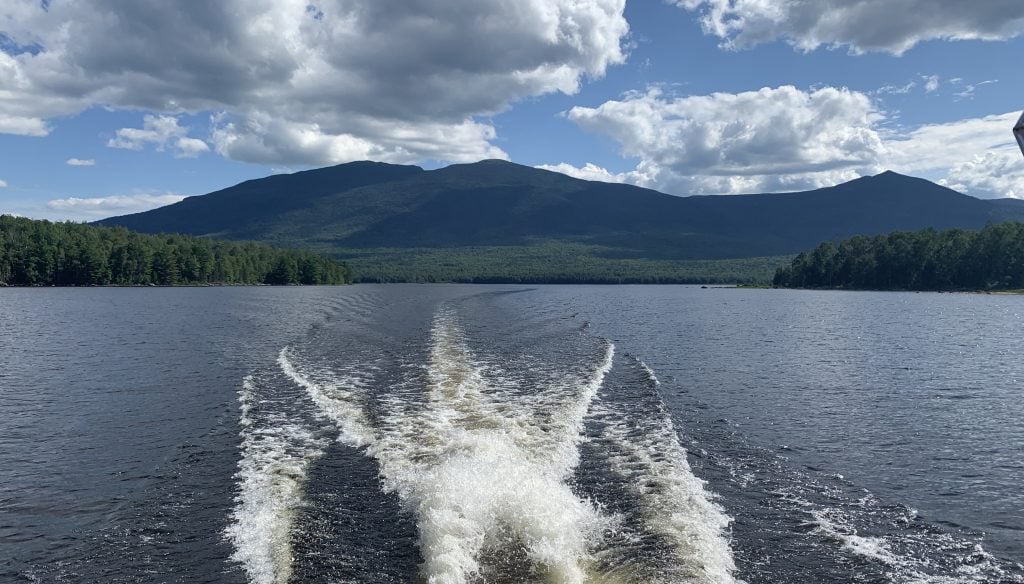 Recognized by Yankee Magazine's "Best of New England" Travel Guide, join Master Maine Guide, Jeff Hinman, on a pontoon cruise around the fourth largest lake in Maine. Enjoy breathtaking views as you travel in the shadow of the towering Bigelow Mountain range and sight local wildlife, and just maybe a famed moose! An incredibly remote lake with few structures lining its sandy shores, learn the tragic history of the lost villages buried beneath the shimmering surface of this man-made body of water from your expert guide on this unforgettable cruise.
The trip costs $40 per person. To book your scenic boat tour, click here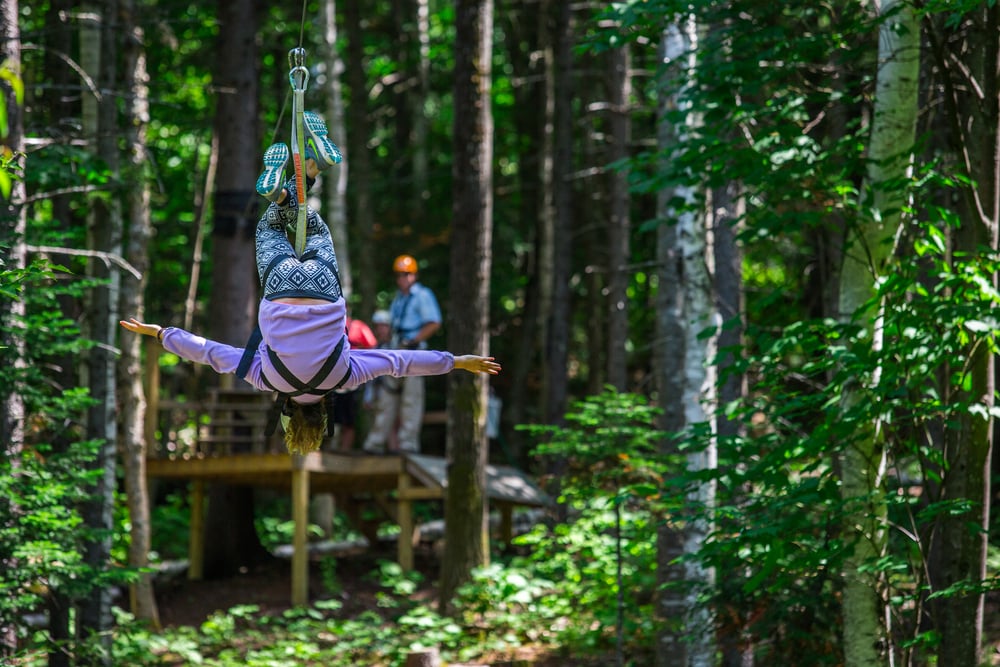 Fly through the woods of your favorite mountain on a thrilling ride that reaches speeds of up to 25 mph! Ziplining is a great activity for the whole family and tours leave every 90 minutes throughout the summer. There is a set of six ziplines running 20-30 feet off the ground. Riders must be at least 3 feet tall and weigh between 40 and 250 lbs. Groups of up to 8 people are permitted on each tour.
You can book your trip online or in person at the Outpost Adventure Center, located directly next to the Mountainside Real Estate office in the Sugarloaf Base Village on Main Street and across from Birchwood Interiors. Tours leave directly from this location.